I had heard and read great reviews of this place but when we visited Primrose Patisserie, it was a bit of a disappointment. A latte and a mocha were ordered but we were given a cappuccino instead of the latte. The coffee was awful. The mocha tasted like toffee and I couldn't even finish the cup. They do not do soy milk.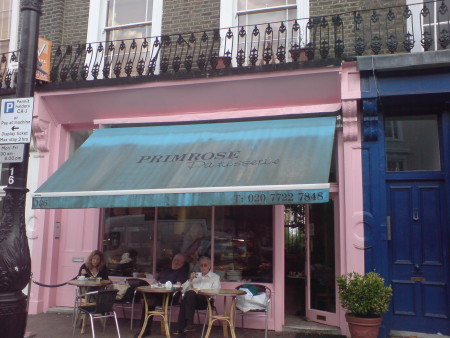 In contrast to this, the apple crumble cake was tasty and it was a generous portion. You can buy whole cakes. If you were to ask for a warm croissant, it will just be microwaved. Come here for the cakes but not for the coffee. They do a range of hot and cold food too.
The service was ok, not really service with a smile. The cafe had a chilled atmosphere with relaxing music. I guess the bonus about this place is that it is in a nice location.
Primrose Patisserie, 136 Regents Park Road, Primrose Hill, London, NW1 8XL
Rating: