CLOSED DOWN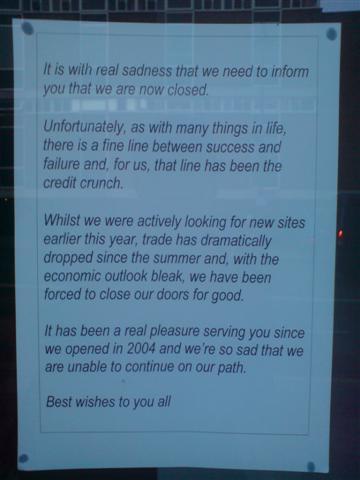 This review has been left for historical value.
Come here for breakfast, lunch, dinner or coffee and cake. Its perfect for anytime of the day! To start the day, if you would like a good quality fry-up (without the atmosphere of a greasy cafe!), then try the Brits Breakfast.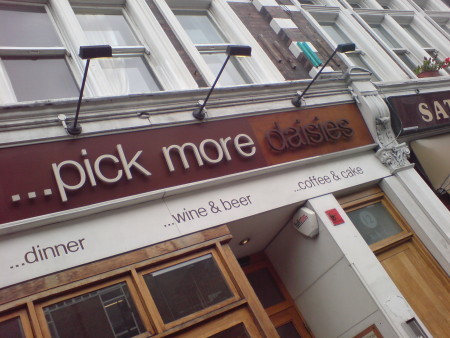 Their Kobe burgers are the best. They have been awarded the best burger in London award from the Restaurant Magazine.
So you may be thinking what is a Kobe burger…I did! A little bit of info for you here!
Kobe – A city of southern Honshu, Japan, on Osaka Bay south-southwest of Kyoto. A port and manufacturing center, it was almost entirely rebuilt after World War II. The city was badly damaged by an earthquake in 1995. Population: 1,530,000.

dictionary.com

Kobe beef refers to beef from the black Tajima-ushi breed of Wagyu cattle, raised according to strict tradition in Hyogo Prefecture, Japan. Kobe beef is renowned for its flavour, tenderness, and fatty well-marbled texture. Kobe beef can be prepared as steak, sukiyaki, shabu shabu, sashimi, teppanyaki, ground hamburger patties and more.

wikipedia.org
They do great nachos topped with sour cream, cheese and salsa. Actually all the food that we have had there has been of a very high quality. I also tried the daisy vegetarian burger which was really filling. All the burgers come with a refreshing slice of melon and salad. To complement all this "healthiness", a bowl of cheesy fries tops it off!
Then there is dessert 🙂 The sticky toffee pudding with ice cream is a must or if you like something a little lighter then the warm apple tart is a good choice.
I am always tempted by the milkshakes at Pick More Daisies. A glass of coffee or banana milkshake if I feel like I want to indulge otherwise a mango sorbet shake for a fruity treat. They do a good range of coffees and teas too and they serve soy milk.
I like that the restaurant is divided into two parts with the open kitchen in the middle. The back part of the restaurant is a lot more airy and light than the front. We usually ask if we can sit there and there's only been a few occasions when it has been closed.
The service here is really good and the staff are friendly. Good food, great relaxed atmosphere, tempting desserts are just a few of the reasons why we return to Pick More Daisies time and time again!
Pick More Daisies, 12 Crouch End Hill, London, N8 8AA
Rating: